Learning Greek can be a long and very rewarding process! Some people start learning with enthusiasm and after 2-3 months they give up because they find it difficult to continue! Most people don't realize some things before they start learning Greek.  Let's explain in detail 9 facts about learning the Greek language below.
You need to take your classes consistently
This is very important! We have many students who book a package of 10 lessons and it takes them 6 months to finish the package. Whereas we agree on weekly classes, work commitments take them away and they cancel one lesson after the other. This is not at all a good idea! If you aren't consistent with your lessons you cannot progress. You can learn something when you take 2-3 lessons but if you have a break you can forget almost everything and you need to start all over again! This is a waste of money and time. If you want to progress with your Greek, you need to take at least 1 lesson per week. However, the ideal pace is 2 lessons per week. This will help you progress steadily towards your goal!
You need to do your homework
 Apart from taking your classes consistently, you also need to do your homework. I like to say that you will learn the language at home during your homework, not during the lesson. The lesson is important to answer your questions, to correct your homework and give you feedback, to give you some fresh knowledge (grammar, vocabulary) and keep you on track. Then you take what you learned in the lesson and you master it at home. Then you need to go out and practice it in real life. That's how you learn a language!
Practising the 4 skills is vital
Most people are interested in learning to speak and understand Greek. Sometimes, we have people who ask us to just teach them how to speak Greek. No reading, writing. No grammar. Nothing. Just learn how to speak. This is something that will delay your progress. All skills (reading, writing, speaking, listening) are important in language learning. Even if you will never need to write in Greek, practising writing when you learn the language will help you improve your speaking as well. Practising reading Greek will also help you with speaking Greek. The main reason for that is that you create a picture in your mind with the words and then it is much easier for you to recall them when you need them. In addition, it helps the teaching process because taking notes and practising them at home will help you progress faster.
You will not learn Greek in 3 months
You will have your ups and downs
 As language learning is a long process, you will have your ups and downs for sure. Sometimes you will feel disappointed that you cannot understand something, at other times you will feel very happy because you managed to hold a conversation with a local or because you understood everything that somebody told you in Greek. It is very important to keep going whether you are down or up. Here your tutor is very important! The tutor has to be able to support you emotionally to go through all these stages.
You have to take responsibility of your learning
YOU will learn the language not your tutor. It is very important to understand that! As an adult learner you have to understand that the learning progress is your responsibility and you will progress only if you follow your tutor's advice, study and be consistent.
You have to trust your tutor
Trusting your tutor is key to your progress. Follow their advice, ask questions, study. You will progress even when your tutor is not the most experienced tutor. Many people have strong opinions on how they want their lessons to be and this creates many problems in their learning progress. Just bear in mind that there is never only one way to learn something. Trusting your tutor is key!
You will not learn if you don't make mistakes
Making mistakes is a key for learning anything. This is also true for language learning as well! Try to speak Greek as much as possible. Don't be afraid of mistakes! They will help you progress. Ask questions! There are no stupid questions.
That's very important. Patience is a virtue and that includes when you are learning Greek! You will progress for sure. However, it takes time and you need to be patient! Don't give up. Just keep going!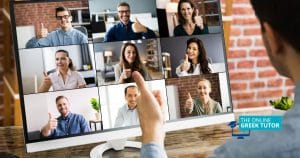 Learning Greek together provide a collaborative environment where students can...
Read More