Learn Greek Online
Quality, guided Lessons With Professional Tutors
Our mission is to help you communicate in Greek, either this being with your relatives in Greece or with the locals during your trips to Greece. We are here to help you connect with Greek culture and history through the Greek language. We know how happy you will feel when you can communicate in Greek and we are dedicated to achieving that goal with you!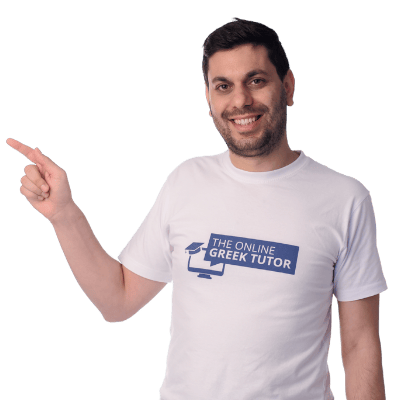 Do you belong to any of the groups above?
What you will get from our lessons: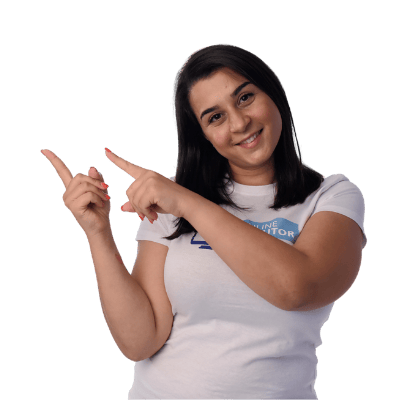 What is included in our Lessons?
Experience Greek Language Learning with native speakers
What Our Students Have to Say
Ioanna started to teach me and her approach was done to making it a fun way to learn, which made the process that much easier. I was only able to complete a certain number of lessons but these helped me a great amount of understanding and speaking Greek. I was very pleased with the speed I was able to grasp the basics of Greek and this was because of the way Ioanna had constructed the course.
Valentinos is an excellent, patient teacher who gives interesting and varied tutoring tailored to suit your needs. His teaching style is relaxed and yet he continually uses new ways to help you learn, including using videos and recordings, conversation, quizzes, reading, and role-play- whatever he thinks will best help you learn. He is flexible with arranging suitable times for you and I highly recommend him.
I've been learning Greek with Valentinos via Skype since October 2014. Valentinos is always very well prepared and his teaching materials are excellent. He is flexible, spending more time or skipping forward as needed, selecting appropriate homework to reinforce the material covered in sessions, as well as willing to discuss aspects of Greek language and grammar of interest to students. He is friendly, enthusiastic and always ready with praise and encouragement. I'm learning for fun, but it is also possible to prepare for formal tests, for example, I started at level A2 and I'm now progressing through level B1. As an experienced academic teacher, I recommend Valentinos very highly to any prospective student.
Arriving in Cyprus I had no knowledge of the language whatsoever, I attended an English speaking school in Limassol where I was taught to read / write and speak Greek. Unfortunately, I began to struggle and found it difficult to keep up with my other classmates due to a lack of confidence. My parents decided it was best I started extra Greek sessions. Ioanna was an amazing help, her patience and knowledge of both Greek and English language made it so much easier for me to catch up with school work. The extra revision classes definitely increased my confidence in speaking the language. I soon noticed my grades in school improve also.
Alexia Panagiotidou
2022-12-02
Excellent customer service and Fotini is an amazing, very knowledgeable teacher
I have both individual and group lessons and find it a very effective and enjoyable way to learn Greek with expert tutors who are always friendly and encouraging The sessions are always productive and interesting. Individual lessons have been thoughtfully tailored to my needs with all session materials carefully prepared. Group lessons always provide good opportunities to develop spoken Greek and useful feedback and learning points are always given on any written tasks. This really works for me.
I am really enjoying learning greek with The Online Greek Tutor, the group is great and my tutor is really friendly, encouraging and knowledgeable. I would highly recommend!
Alexis Dhrymes
2022-06-21
I've been taking lessons with The Online Greek Tutor for a few years now and not only have I been very happy with my progress, but several of my relatives have commented that my Greek improved a lot. My teacher is great at identifying areas which I need more practice and giving me custom assignments to help me in these areas. Also, in addition to what I learn from the textbook he provides insight into commonly used expressions, as well as the etymology of words which I always find interesting. It's also worth noting that they have recently upgraded their website which has been great. It keeps everything in one place and has many useful features such as sending reminders for upcoming lessons, and a whiteboard which allows you to take notes and markup pages in the textbook. All in all I would highly recommend them!
Athena Triantafilidis
2022-06-21
I have been learning Greek through The Online Greek Tutor for the past year and it's been a wonderful experience. My tutor is patient and explains things well. He's also willing to find additional materials and create practice exercises for areas that need improvement. The class materials are organized and lend well to a learning schedule. The staff is courteous and hardworking. My Greek has gone from very clumsy to conversational, and I'm able to read and communicate much better than before. Highly recommend for those with an interest in Hellenic language and culture!
Russell Gibson
2022-06-21
I started using The Online Greek Tutor last year, choosing to have one-on-one lessons. After looking though the list of tutors, I selected Nancy and had a demo lesson with her, which was more like a meet and greet. She asked me questions about my experience with languages and my experience with Greek in particular. I booked a 20-course package and found I was learning the language very quickly. Nancy is patient and explains things very well. The Greek language has some odd characteristics, but she is great at telling me why things are a certain way. I recently re-upped and booked another 20 lessons. The platform is very user friendly, the course content is extremely useful and the pace is perfect. I recently went to Greece and was able to try out my skills. Several people told me how well I was speaking their language and that my accent was very authentic. That was all the encouragement I needed. HIGHLY RECOMMENDED!
I have used The Online Greek Tutor for a three yeaars and he has taken me from a burbling beginner to someone who can now hold an everday conversation in Greek. I am so happy with TOGT and I definitely reccomend them.
Stefan Melovski
2021-11-03
Fantastic! I've loved every single lesson! Very happy I've come across this school of greek
Susan Parrelli
2021-06-29
I have been with the Online Greek Tutor for almost 4 years. I have learned so much and find the teachers to be patient, caring, helpful and fun. They have so much to offer and want to make sure you are happy and in the class that best suits your needs. I highly recommend them and will continue.
Our Tutors
Meet our experienced teachers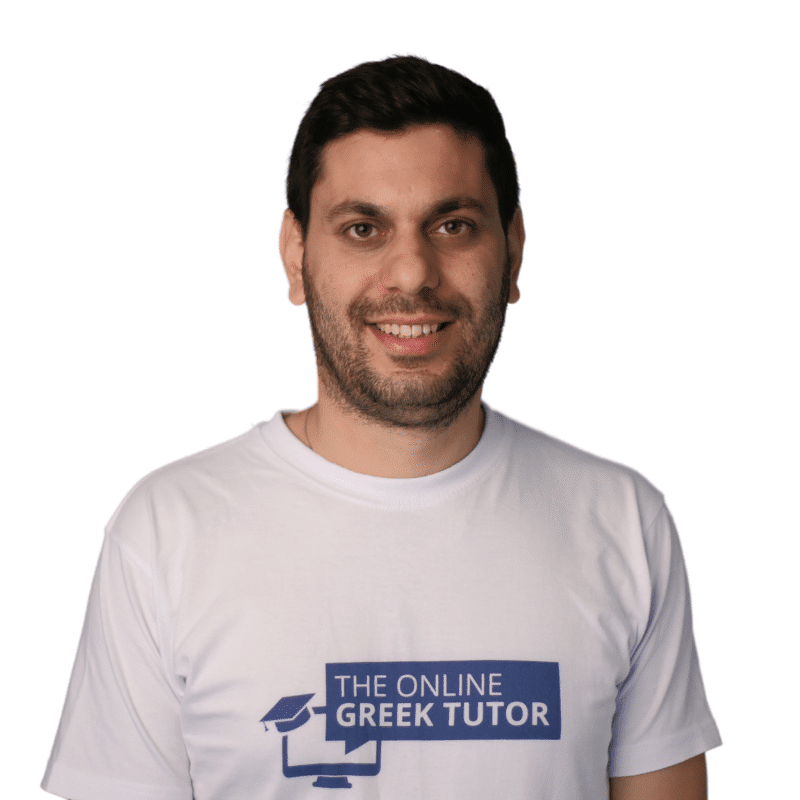 Valentinos
Tutor - Founder
I have been a Greek tutor since 2014, teaching one-on-one on Skype and making video lessons for my students.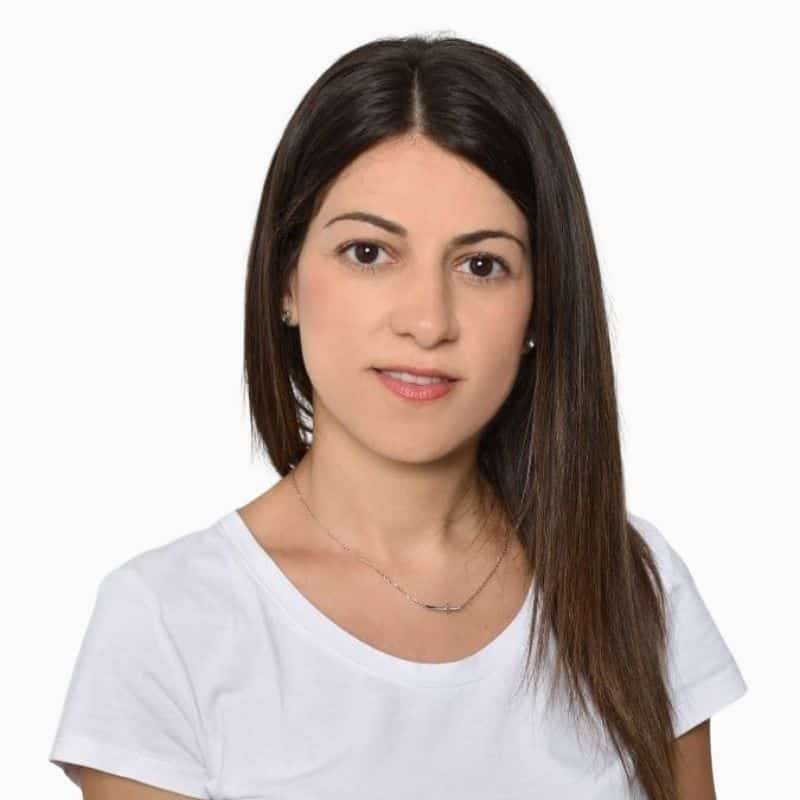 Ioanna
Tutor
I love my job, my students and my books and I can not imagine myself engaging in any other profession.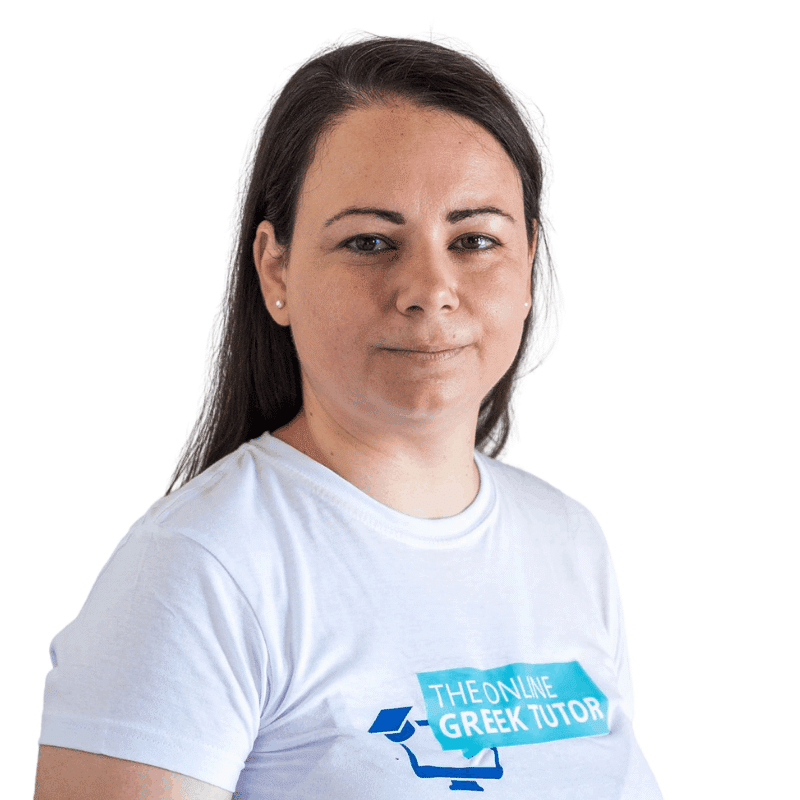 Maria
Tutor
I love teaching and I love the Greek language and its culture. I am working as a language tutor to Greek learners.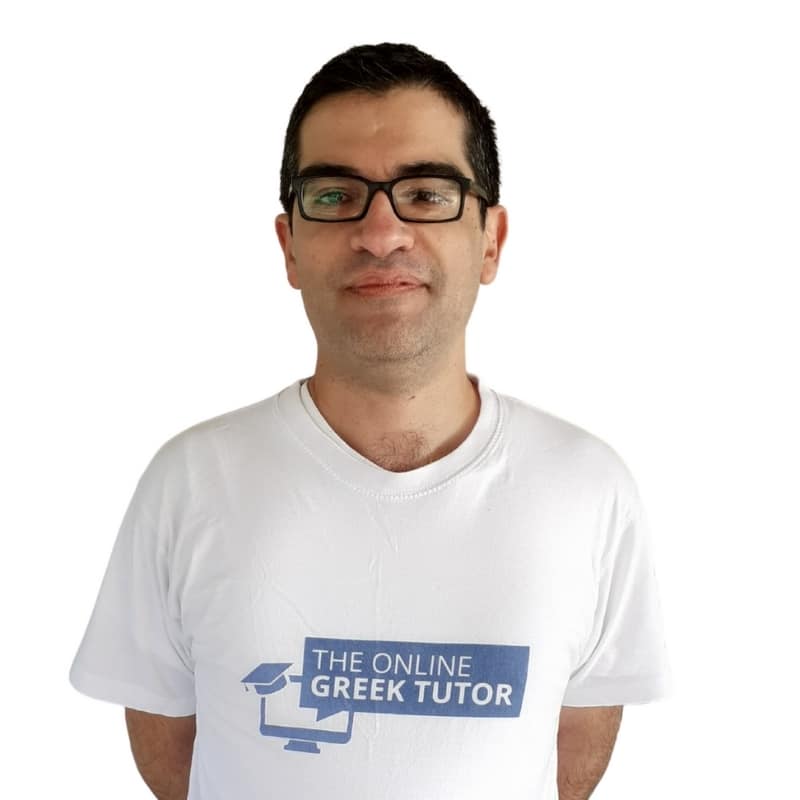 Vasilis
Tutor
My passion is teaching Greek which gave me the opportunity to meet people, help them learn and also learn a lot from them!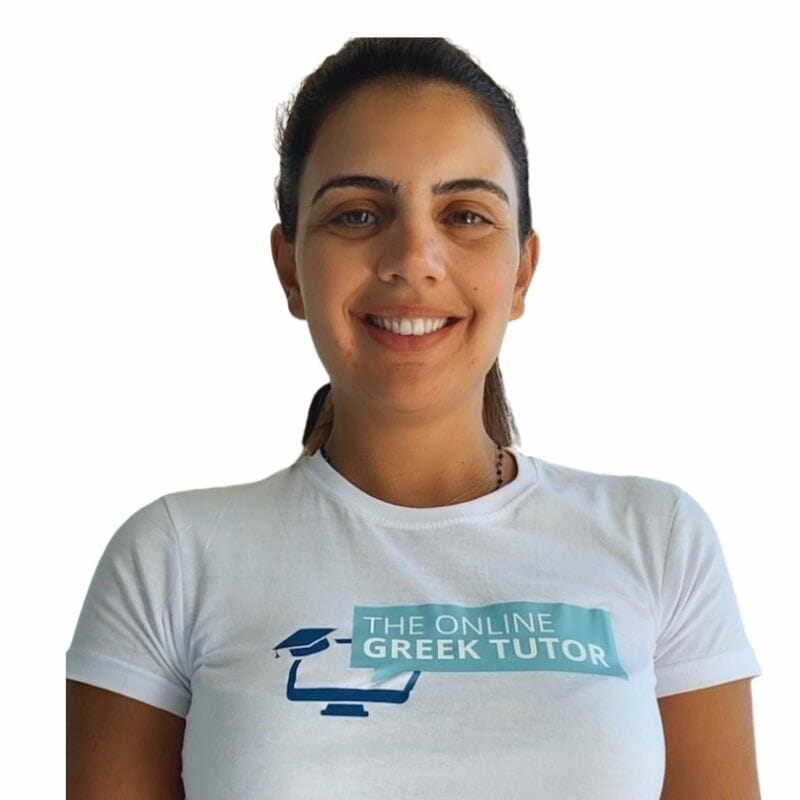 Fotini
Tutor
I am really excited about teaching Greek through up-to-date methodologies and a personal way of approaching students.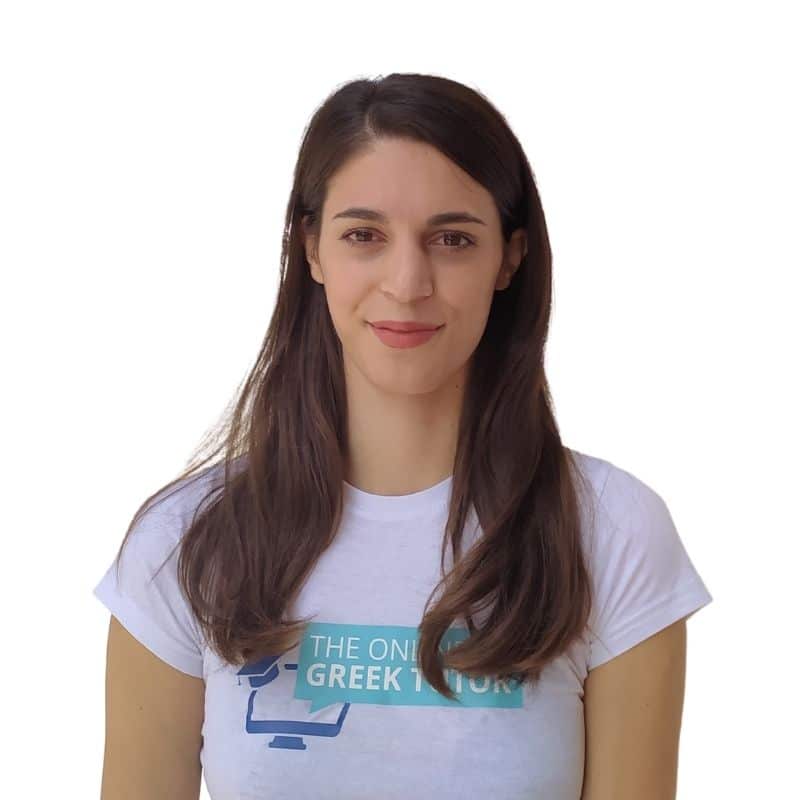 Athena
Tutor
As much as I like to learn other languages and cultures, I also like to teach Greek other people.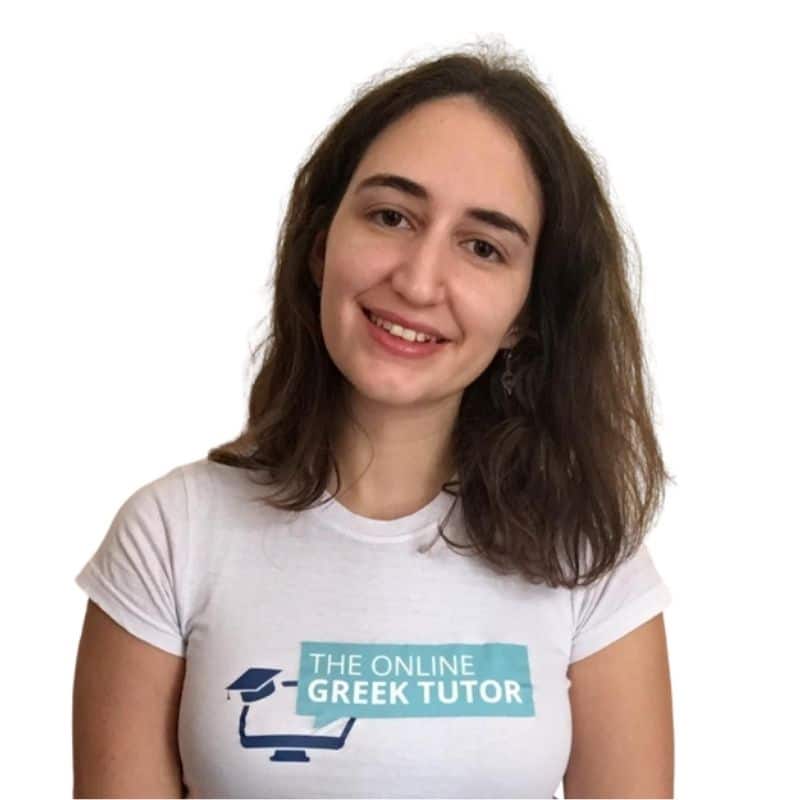 Dafni
Tutor
I am very excited to teach Greek and the relevant culture to my students and inspire them to reach their full potential.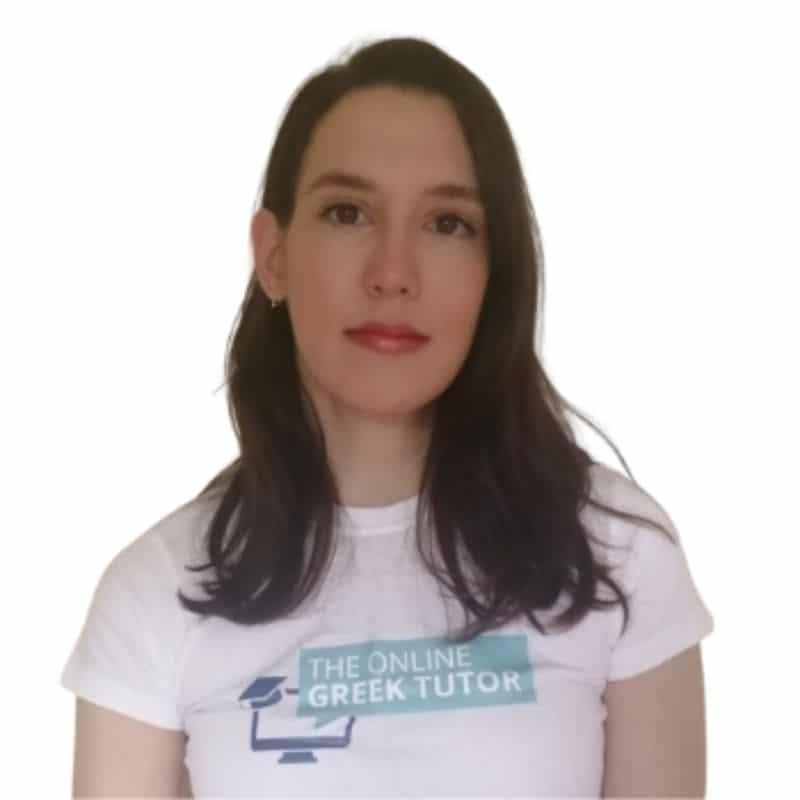 Nancy
Tutor
Hello! I am Nancy, from Athens. I am a Greek language teacher and I have been passionate about teaching since forever.